This post may contain affiliate links or sponsored content, read our Disclosure Policy.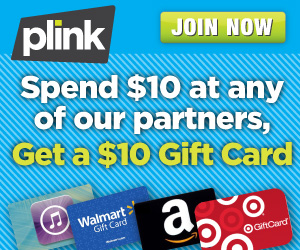 Sign up for Plink today, make a minimum $10 purchase at any of Plink's locations by Sunday, 4/28 11:59 EST, and you'll receive  1,000 Plink Points – enough to redeem for a $10 Gift Card of your choice at places like Amazon.com, Target, Walmart, Kohls, Starbucks and more!
Just visit  one of Plink's 50,000 locations nationwide, including Old Navy, Gap, Burger King, Taco Bell, 7-11, Regal Cinemas (and MANY others) , make a $10 purchase and you will receive the points – enough to grab a $10 gift card to one of your favorite stores!!  SO EASY!
*New Plink Members Only*
This post may contain a link to an affiliate. See my disclosure policy for more information.