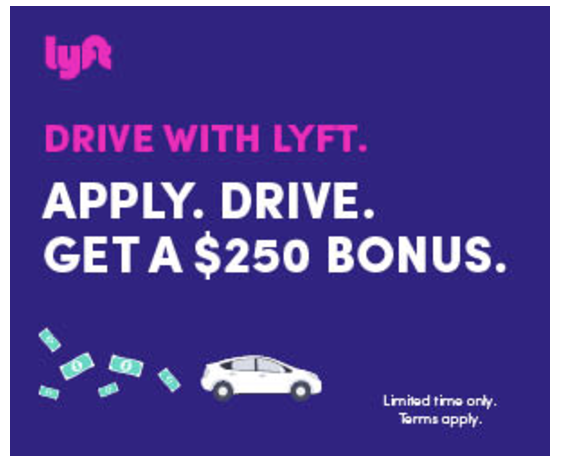 Are you looking to earn some extra income? Consider driving for Lyft. You can set your own hours and can make up to $35 per hour in your spare time. Now is the time to sign up because Lyft is offering a huge $250 bonus for drivers that complete 100 rides!
Lyft matches drivers with passengers who request rides through our smartphone app, and passengers pay automatically through the app.
Lyft provides additional insurance policies, at no cost to the driver.
Earn tips from your passengers and keep the whole amount — they're yours.
With increased Prime Time pricing during peak hours, you make more with Lyft.
GO HERE and use the calculator to see how much you can make. It's free to join and there is no obligation!
What are Lyft's requirements?
You must be at least 21 and own an iPhone or Android phone. As part of our approval process, you'll undergo a DMV check, plus a national and county background check. This will require a Social Security number, in addition to an in-state driver's license that is at least a year old.
thanks swaggrabber!