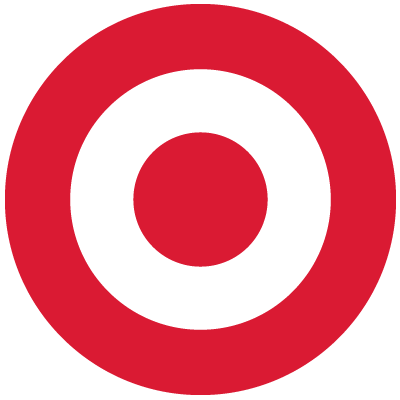 The Target Black Friday 2013 Ad was just released and it is huge – 36 pages!
ALSO be sure to check out MORE Black Friday Store Ads 2013 by clicking the box below.  I have been adding the ads DAILY:
Doors will be opening at 8pm on Thanksgiving night and these deals
will be good then through Saturday.
Most of these deals have Limited Quantities and No Rain Checks available
Friday Only: Spend $75 or more and get 20% off 1
Shopping Trip between Dec 1-7
Saturday Only: Buy 1 Get 1 Free – All Single-Roll Holiday Wraps
Saturday Only: 50% off All Artificial Trees
There are Hundreds of Doorstoppers! You can Preview Target's Black Friday Ad
.
Here are a few favorites:
Beats by Dr. Dre Solo HD On-Ear Headphones for $119
Nintendo 3DS XL for $149
Westinghouse 40″ Class 1080p 120Hz LED HDTV for $199
Monsters University (3 Discs) (Blu-ray/DVD) for $10
Call of Duty: World at War (Xbox 360) for $10
Nikon L320 for $99 (Reg $229.99)
Playstation 3 250GB Bundle for $199
7-Inch NABI 2 Kids' Android Tablet for $129 (Reg $179.99)
Canon T3 DSLR Bundle for $449 ($714.99 Value)
Target Gift Card Deals, where you get a Free Target Gift Card
with Purchase:
Keurig K40 Elite for $99 + Free! $20 Target Gift Card®
Also – Select 16- or 18-CT. Keurig K-CUP Packs for $8
Fitbit Wireless Wristband + Free! $20 Target Gift Card®
iPad mini® Wi-Fi 16GB for $299 + Get a Free! $75 Target Gift
Card® when you buy any iPad mini.
iPad Air® Wi-Fi 16GB for $479 + Get a Free! $100 Target Gift
Card® when you buy any iPad
iPhone® 5s 16GB for $179.99 (only at stores with Target mobil)
+ Get a Free! $30 Target GiftCard® when you buy any iPhone 5s.
Here's the full list of the rest of the items!
Electronics:
ELEMENT 50-INCH 1080p LED HDTV for $229 – Limit 1 per guest
SAMSUNG 32-INCH CLASS LED HDTV for $227.99
VIZIO 37-INCH CLASS LED HDTV for $249.99
VIZIO 47-INCH 1080p LED HDTV for $379.99
SAMSUNG 40-INCH 1080p SMART LED HDTV for $397.99
SAMSUNG 50-INCH 1080p LED HDTV for $597.99
SAMSUNG 55-INCH 120Hz 1080p LED HDTV for $697.99
SONY WI-FI BLU-RAY PLAYER for $54.99 (Reg $104.99)
CAPELLO HDMI DVD PLAYER for $19.99
SONY PORTABLE BLUETOOTH SPEAKER for $49.99 (Reg $89.99)
JBL 38-INCH 2.0 CINEMA SOUNDBAR for $99.99 (Reg $199.99)
NOOK 7-INCH HD 8GB TABLET for $79 (Reg $129)
RCA 9-INCH DUAL-SCREEN PORTABLE DVD PLAYER for $69.99 (Reg $129.99)
RCA 10-INCH PORTABLE DVD PLAYER for $59 (Reg $99.99)
iTunes® card multipack for $50 (Reg $60)
Apple TV® for $89
GARMIN NÜVI 40LM GPS for $79.99 (Reg $139.99)
VIRGIN ZTE AWE for $19.99 (Reg $99.99)
SAMSUNG GALAXY S4 for $39.99 with With qualifying 2-year agreement.
SAMSUNG GALAXY SIII for 1 cent with qualifying 2-year agreement
NIKON D3200 2-LENS BUNDLE for $499.99 (Reg $799.99)
CANON A3500 DIGITAL CAMERA for $79.99
HP PHOTOSMART 5520 ALL-IN-ONE PRINTER for $59.99
CASIO 61-KEY ELECTRONIC KEYBOARD for $65
SINGING MACHINE KARAOKE SYSTEM for $59.99
Video Games/Accesories
All Sony DualShock 3 controllers, Turtle Beach P11 and X12
headsets, and Xbox 360 camo or black wireless controllers. – $39
Each
XBOX 360 – Assassin's Creed IV Black Flag for $59.99 +Get a
Free! $20 Target Gift Card®
Free! $10 Target Gift Card® WHEN YOU BUY any of these 3 games:
Nintendo 3DS – Mario and Luigi: Dream Team for $39.99
Wii – Just Dance 2014 for $39.99
XBOX 360 – Call of Duty: Ghosts for $59.99
$10 Games:
Wii – Just Dance 3
Wii – Monster High: Skultimate Roller Maze
XBOX LIVE 3 Month Gold Membership
XBOX 360 – Call of Duty 4 : Modern Warfare
XBOX 360 – Max Payne 3
$15 Games:
Nintendo 3DS – Angry Birds Star Wars
Nintendo 3DS – Wreck-It Ralph
Wii – Wipeout: Create & Crash
PC – The Sims 3
PS3 – Grand Theft Auto: Episodes from Liberty City
$25 Games:
XBOX 360 – Call of Duty: Black Ops II
XBOX 360 – Tom Clancy's Splinter Cell Blacklist
XBOX 360 – Teenage Mutant Ninja Turtles
Wii – Just Dance Kids 2014
Nintendo 3DS – LEGO: Marvel
$35 Games:
XBOX 360 – Battlefield 4
XBOX 360 – Batman: Arkham Origins
XBOX 360 – Madden NFL 25
PS3 – FIFA 14
PS3 – WWE 2K14
XBOX 360 KINECT BUNDLE for $189.99 (Reg $299.99)
$5 Games:
Headbanz
Jenga
Connect 4
Sorry
Clue
Trouble
Monopoly
Toys:
FISHER-PRICE Poppity-Pop Musical Dino for $19
FISHER-PRICE Classic Infant Trio for $19
LEGO City Forest Police for $50
ALL SKYLANDERS CHARACTERS & ACCESSORIES – Buy 2 Get 1 Free
DISNEY INFINITY STARTER PACK for $49.99
Hot Wheels Mega Loop Mayhem for $25
ALL LEAPFROG EXPLORER SOFTWARE for $15 each
Cabbage Patch Kids set with doll for $25
NEW BRIGHT R/C MUDSLINGER TRUCK for $15
TARGET EXCLUSIVE NERF Elite Alpha Trooper blaster for $15
TARGET EXCLUSIVE 7-figure Disney Princess pack for $15
TARGET EXCLUSIVE Air Hogs R/C Havoc Heli Special Edition for $15
BARBIE Glamour Jet with 30+ accessories for $35
BARBIE doll & furniture gift set for $35
Sofia, Barbie, Ariel or Minnie Mouse 3-ft.-tall cardboard doll
kits for $10 each
My First Disney Princess dolls for $10 each
Fisher-Price Doodle Pro Classic for $10
Transformers Rescue Bots for $10 each
FurReal Friends Newborns for $10 each
Zombie Hunter or Duck Commander PLUG & PLAY TV GAMES for
$25 each
25% off New Games
Tetris
Logo Party
Twister Dance Rave
Magic Jin
Bop It
Monopoly Empire
Party Games – $12 Each
Trivial Pursuit Family Edition
Funny Side
Wits & Wagers
Cranium
Would You Rather
Taboo
Buy 1 Get 1 50% off Toys of these brands – two toys
of the same brand. Lower priced item will be 50% off. No Rainchecks,
while supplies last. Does Not Include VTech Innotab 3 or 3S:
Teenage Mutant Ninja Turtle
Monster High
Lalaloopsy
MegaBloks
Our Generation
VTech
Angry Birds
Imaginext
Use the Above Buy 1 Get 1 50% off to make these deals below
even sweeter:
Monster High Dolls Ghoul's Alive, Scarily Ever After and
Roller Maze collections $10 each
Monster High School Playset for $60
Monster High 5-Doll Set for $50
Teenage Mutant Ninja Turtles R/C Shellraiser Subway Car for $44
Teenage Mutant Ninja Turtles 2-pc. Combat Gear roleplay set for $12
Lalaloopsy Loopy Hair Doll for $27
Our Generation 18-INCH DOLL for $20
VTECH Touch & Teach Turtle for $18
Imaginext DC Super Friends Batcave for $34
MEGA BLOKS SKYLANDERS Zeppelin Air Ship Assault for $16
Angry Birds Go! Deluxe Telepods Mltpk for $18
Outside Fun:
Razor a Folding Kick Scooter for $19
Original Big Wheel 16-INCH TRIKE for $29
Razor E175 Electric Scooter for $89
Stiga Redline Advance Table Tennis Table for $67
6 Volt Rideons SRT Viper or Volkswagen Beetle with MP3 player $99
16-inch Princess bike or 14-inch Planes bike for $57 each
$1 Movies:
American Reunion DVD
Do the Right Thing (20th Anniversary Edition) DVD
Billy Madison DVD
$4 Movies:
The Twilight Saga: Breaking Dawn – Part 2 DVD
The Great Gatsby DVD
Flight Blu-Ray
Hotel Transylvania DVD
Mud DVD
Argo DVD
Magic Mike DVD
The Perks of Being a Wallflower DVD
The Vow DVD
Wedding Crashers Blu-ray
Diary of a Wimpy Kid: Rodrick Rules DVD
Talladega Nights: The Ballad of Ricky Bobby Blu-ray
Alvin And The Chipmunks: Chipwrecked DVD
$6 Movies:
Safe Haven DVD
The Amazing Spider-Man DVD
Snow White & the Huntsman DVD
The Purge DVD
This is 40 DVD
Olympus Has Fallen DVD
Silver Linings Playbook DVD
Pitch Perfect DVD
Zero Dark Thirty Blu-ray
Pacific Rim Blu-ray
ParaNorman DVD
Teenage Mutant Ninja Turtles: Rise of the Turtles DVD
The Big Lebowski DVD
Goldfinger Blu-ray
Warm Bodies Blu-ray
The Dark Knight Rises Blu-ray
$9 Movies:
The Heat DVD
World War Z Blu-Ray
Star Trek Into Darkness Blu-ray
The Hangover Part III Blu-ray
Grown Ups 2 DVD
This Is The End DVD
Hansel & Gretel: Witch Hunters Blu-ray
The Internship DVD
Epic DVD
The Expendables 2 Blu-ray
Now You See Me DVD
Ted Blu-Ray
Diary of a Wimpy Kid: Dog Days Blu-ray
The Big Wedding Blu-ray
$10 Movie:
$8 TV Series on DVD:
Community: The Complete Fourth Season DVD
Community: The Complete Fourth Season DVD
Duck Dynasty: Season 3 DVD
The Simpsons – The Complete Tenth Season DVD
$10 TV Series on DVD:
The Vampire Diaries: The Complete Fourth Season DVD
Breaking Bad: The Fifth Season DVD
Mad Men: Season Six DVD
Justified: The Complete Third Season DVD
$13 DVD Box Sets
Jurassic Park Ultimate Trilogy DVD
Riddick Trilogy DVD
Classic Cartoon Collection Premium Collector's Edition DVD
Back to the Future: 25th Anniversary Trilogy DVD
The Bourne Trilogy
$5 CDs:
Macklemore & Ryan Lewis – The Heist CD
Ariana Grande – Yours Truly CD
Carrie Underwood – Blown Away CD
Justin Bieber – Under The Mistletoe CD
Josh Groban – Noel CD
Various Artists – Pitch Perfect Soundtrack CD
Sara Bareilles – The Blessed Unrest CD
One Direction – Take Me Home CD
$7 CDs:
Justin Timberlake – The 20/20 Experience CD – Only at Target
Kelly Clarkson – Wrapped in Red CD – Only at Target
Mary J. Blige – A Mary Christmas CD
Katy Perry – PRISM CD
Lady Gaga – ARTPOP CD
Luke Bryan – Crash My Party CD
Drake – Nothing Was The Same CD
Eminem – The Marshall Mathers LP2 CD
$7 Books:
City of Bones (The Mortal Instruments, Book 1) by Cassandra
Clare book
Catching Fire (The Second Book of the Hunger Games) by Suzanne
Collins book
Diary of a Wimpy Kid: Hard Luck, Book 8 by Jeff Kinney book
50% off Publishers List Price (select others not listed too):
Let Me Off at the Top!: My Classy Life and Other Musings by
Ron Burgundy book
Doctor Sleep: A Novel by Stephen King book
The First Phone Call from Heaven: A Novel by Mitch Albom book
Takedown Twenty: A Stephanie Plum Novel by Janet Evanovich book
Inferno by Dan Brown book
Dark Witch (The Cousins O'Dwyer Trilogy) by Nora Roberts book
The House of Hades (Heroes of Olympus, Book 4) by Rick Riordan book
Kitchen:
T-FAL 20-PC. Nonstick cookware set for $49.99 (Reg $99.99)
Sunbeam .9-CUBIC-FT. Microwave for $40
Kitchenaid 15-PC. Cutlery Set for $29.99
Rachael Ray 15-PC. Nonstick cookset for $99 (Reg $149.99)
Kitchenaid Classic Plus Stand Mixer for $199.99
Nutribullet Extractor for $99.99 + Free! $10 Target Gift Card®
PYREX 17-PC. Bake & Store set for $18
Sodastream Jet Soda Maker includes 4 bonus syrup mixes for
$79.99 + Free! $25 Target Gift Card®
Black & Decker 12-speed blender for $19
Mr. Coffee 12-cup programmable coffeemaker for $19
Crock-Pot 6-qt. classic slow cooker for $19
Sunbeam panini maker for $19
Black & Decker nonstick griddle for $19
Hamilton Beach single-serve blender for $12
Sunbeam 2-slice stainless steel toaster for $12
Black & Decker single-serve drip coffeemaker for $12
Hamilton Beach 6-speed hand mixer for $12
Ninja Master Prep for $29
Home:
Dirt Devil Quick Lite Cyclonic Vacuum for $25
Hoover Windtunnel Air for $79
Bissell Little Green Multi-purpose Deep Cleaner for $49
DYSON DC35 DIGITAL SLIM for $199
DYSON DC24 MULTI FLOOR for $259
25% off all other Dyson
Shark Professional Steam Pocket Mop for $59
Threshhold™ Tray-top Storage Ottoman for $35
ROOM ESSENTIALS™ 8-Photo Collage Frame for $15
8-Photo Collage Frame for $6
Full size Fieldcrest® Luxury 100% Egyptian Cotton Sheet Set for $35
Any size Holiday Flannet Sheet Set for $16.99
Biddeford Heated Microplush Throw for $19.99
Threshhold Fuzzy Throw for $9.99
Any size Threshhold 1.5-Inch Memory Foam Mattress Topper for $30
Queen-Size 8-PC. Bedding Set for $35
Twin size XHILARATION® Complete Bedding Set for $35
Room Essentials™ 27-IN. x 52-IN. Bath Towel for $2
Twin size Room Essentials™ Jersey Sheet Set for $13.99
Any size Threshold Fuzzy Blanket for $19.99
Room Essentials Body Pillow or Cover for $7 each
Standard/Queen Room Essentials Plush Pillow for $3
Misc:
Crayola Color Cube for $12
Roseart 3-IN-1 Wooden Easel for $24
6-PK. ALEX Bath Crayons for $5
Twin-size Licensed Comforter for $20
Licensed Microfleece Throw and Tote Set for $12
Licensed Hooded Towels for $8.99 each
Convertible Gaming Chair for $69
2-PK. Contigo Addison Water Bottles for $15
Room Essentials™ Folding Bungee Chair for $20
Desktop Games – $6.99 each select ones
SONICARE Essence for $39.99
CHI AIR Flat Iron with Bonus Mini Chi for $99.99 + Free! $20
Target Gift Card®
150-Piece E.L.F. Eyeshadow Palette for $10
Holmes Portable Heater for $79
Singer Promise full-size sewing machine for $59
American Tourtister Luggage 30-inch drop-bottom duffel or
21-inch carry-on with 360° wheels – $49 each
Aero Elevated Queen Air Bed for $64
Holiday:
The Elf on the Shelf boy or girl box set for $29.95 + Get a
Free! $5 Target Gift Card®
2-PK. Hallmark Licensed Ornaments for $10 each
6-FT. PRE-LIT Alberta Spruce Artificial Tree for $30
Clothing:
Women's Xhilaration Genuine Suede Boots for $25
Women's Xhilaration Stretch Gloves – $3 Each + Buy 1, get 1 on
Xhilaration gloves, hats and select scarves.
Women's Xhilaration Fashion Boots for $18 each
Women's Slippers for $14 select styles
Women's Xhilaration 2-PC. Knit Sleep Set for $10
Men's or Women's Timex Watch for $20 select styles
All Women's Xhilaration Faux-Leather Jackets for $20
Women's C9 BY Champion® Microfleece Tunic for $10
Jersey Scarf for $5
Women's Xhilaration Sequened Sweatshirt for $10
40% off Denim and Sweaters for Men, Women and Kids (Sale
excludes men's Wrangler jeans, and newborns', infants' and toddlers'
sweater and denim sets)
Men's Holiday Graphic Tee – $5 each
Men's C9 BY Champion Microfleece 1/4-Zip Pullover for $8
Men's Active Tee C9 by Champion crew-neck or V-neck – $3
Men's Thermal Tops (Mossimo Supply Co. crew-neck, or Merona®
crew or henley style) for $10
Men's Licensed Fleece Sleep Pants for $10
Women's Fuzzy Slippers for $5
Women's licensed microfleece sleep pants for $5
Men's Fleece Sleep Pants for $5
Women's 10-PK. Hanes Panties for $10
Women's 10-PK. Hanes Socks for $5
Men's Hanes Bonus Packs (6+2 pk. crew T-shirts or 5+2-pk.
boxer briefs) for $10 each
Womens' or Men's Licensed Team Jacket for $24 each
Kids/Baby:
Kids' Circo Fleece (Girls' 4-16 hoodie or pants. Sale, reg. $8
& $12. • Boys' 4-18 1/4-zip pullover or pants) $6 each
Kids' 4-Way Reversible Cuff Hat for $3
Girls' 4-16 Cherokee long-sleeve or Circo mix & match
tees, or boys' 4-18 Circo mix & match tee – $5 each
Girls' Sequined Boots for $10
Kids' 4-16 Licensed Tee for $5 each
Kids' 4-16 3-PK. Licensed Underwear for $4 each
Toddlers' Sleep Clothes for $7 each, select styles
Infants/Toddlers Circo ¼ Zip Fleece for $5 each
Infants' and Toddlers' Licensed Hoodie for $10 each
Disney Umbrella Stroller for $15
Baby Einstein Boxed Toys for $9.99 each
Kids' 2-PC. Sleep Set for $5 each
Kids' Hanes® Bonus Packs for $5 each
thanks to a frugal friend for providing this Black Friday 2013 Target Ad